style="color: rgb(255, 0, 0);">
We'd like to wish everyone a Happy 4th of July this weekend and for our Canadian friends Happy Canada Day!! If your going on a picnic this weekend or spending it with family and friends have a wonderful safe holiday! We packed this post with food for fun! Carol made a Turkey Club Sandwich Ring with Avocado Aioli that's perfect for a holiday picnic. Cyndy made a beautiful Bleu Cheese and Pear Salad with Walnuts plus a little firecracker of a drink, Roy's Pineapple Martini ! I made Danish Oatmeal Cookies to round out the picnic with. Enjoy!

A Freebie!
The Prepared Pantry is offering a Free Pizza Dough mix, you pay the shipping and handling of 3.95 and a Free Ebook " A Collection of Pizza and Calzone Recipes. The Ebook is filled with tips, techniques and recipes! Get your free Pizza Crust and Ebook

HERE!
Carol made:
TURKEY CLUB SANDWICH RING WITH AVOCADO AIOLI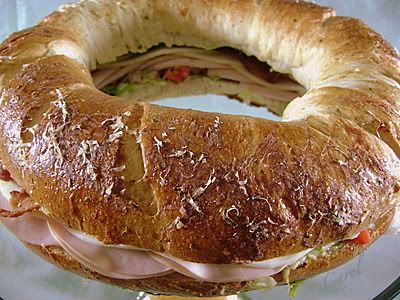 I'll admit it........I'm not a fan of an ordinary sandwich. I DO, however, like "kicked up" sandwiches.....you know the ones....they take an ordinary sandwich to new heights of flavor by using a little something different, be it the type of bread or something that "pops" in the filling. Every so often I stumble across a recipe for one of those sandwiches that I just have to try.....and this is one of them.
I received an email from Pillsbury a while ago with the 100 recipes in the running this year for their Bake Off contest. I hung onto it for referencing later because there are some fantastic recipes on that list. I've made a sandwich ring using their French bread dough before, so when I saw this, and took a look at the ingredients, I knew I HAD to try it.
WOW is it ever good! I used Thin and Trim turkey breast from the deli this time, but I'm sure this sandwich would be equally as wonderful with roasted turkey breast slices-or even sliced chicken breast. The lettuce "salad" that goes into the sandwich adds a nice vinegary undertone-it reminds me of what sub shops sometimes use on Italian subs. And that aioli? Mmmmmmmm.....what a nice combination with the turkey and bacon. The garlic gives it some snap while the avocado cools it down. The only thing I added to that was a bit of freshly cracked black pepper to bump up the flavor a tad. I'm thinking a splash of fresh lime juice and a little grated lime zest would also be a wonderful addition.....note to self for the next time.
What I love about this (as with the other ring sandwich I made) is the bread ring can be baked ahead.....in fact, everything in this sandwich can be made ahead of time, refrigerated and the sandwich can be quickly assembled right before you serve. They can also be made ahead, wrapped and refrigerated-PERFECT to make for OR take to a get together. People just love them. Oh-and a slice of this for lunch the next day is a real treat too.
Thank you Heather, for inventing such a WONDERFUL sandwich.......it's in my keepers file and will be made again and again.
Carol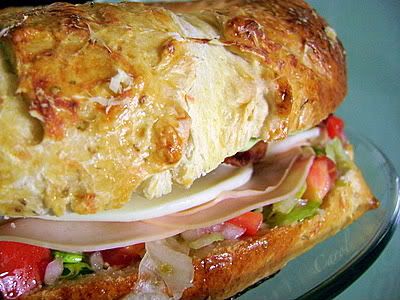 Wanna print just the recipe,
click here!
TURKEY CLUB SANDWICH RING WITH AVOCADO AIOLI
(Source: Pillsbury-recipe by Heather Halonie from Webster, WI)
2 (11 oz. each) cans refrigerated crusty French bread
1 egg
1 tsp. dried oregano, divided
1 Tbsp. shredded Parmesan cheese
1 1/2 c. shredded lettuce
1/4 c. chopped red onion
2 medium plum (Roma) tomatoes, chopped
1/4 c. extra-virgin olive oil
1 1/2 Tbsp. red wine vinegar
1/2 tsp. crushed red pepper flakes
1/2 c. mayonnaise or salad dressing (I use reduced-fat mayonnaise)
2 cloves garlic, finely chopped
1/2 avocado, pitted, peeled and chopped
1/8 tsp. black pepper
8 oz. thinly sliced deli turkey
8 slices (3/4 oz. each) provolone cheese, halved
8 slices bacon, crisply cooked (I use low sodium bacon)
Heat oven to 350 degrees. Spray a large cookie sheet with nonstick cooking spray (I use my pizza pan) or line with parchment paper.
Place both loaves of bread down, seam sides down, on cookie sheet. Join ends of loaves to form an 11" ring; pinch ends together FIRMLY to seal (this takes some work-they don't like to stay together well at all). Using a sharp knife, make 12 (1/2" deep) diagonal slashes on top of dough.
In a small bowl, beat egg and 1/2 tsp. oregano with a fork; brush egg mixture generously over dough. Sprinkle dough with Parmesan cheese. Bake @ 350 degrees for 25-30 minutes or until deep golden brown. Cool on pan for 20 minutes.
Meanwhile, in a medium bowl, mix lettuce, onion, tomatoes, olive oil, red wine vinegar, red pepper flakes and remaining 1/2 tsp. oregano. Refrigerate about 20 minutes to blend flavors and slightly wilt lettuce (I did mine 1 hour ahead and it was fine).
In food processor, cover and process mayonnaise, garlic, black pepper and avocado until smooth.
Cut bread ring in half horizontally. Place lettuce mixture on bottom of ring. Top with turkey, provolone cheese and bacon. Spread avocado mixture on top of ring; place over top of fillings. Cut into 8 sections and serve. Makes 8 servings.